Back in 2019, Google introduced the idea of Discovery Ads a native ad format that is visually rich and utilizes targeting powered by user intent, instead of keywords, at their Google Marketing Live event. Fast forward one year later, and the age of Google Discovery Ads has begun. Much like many of the aspects of Google Ads, initial understanding and utilization of these ads can be confusing. Let's take a simple step back and break down Google Discovery Ads.
What is "Google Discover"?
Google Discover is the more recent name for Google Feed, which is a feature on all iPhone and Android phones, which have the Google app installed, that allows users to personalize their newsfeed by choosing to follow or unfollow topics that may interest the user.
Google Discover allows users to discover new information and inspiration with Search, with no keywords involved.
What are "Discovery Ads"?
Google Discovery ads are designed to appear exclusively on mobile devices. Simply put, Discovery Ads are Google's newest ad format that runs across YouTube's home feed, Gmail's promotions tab, and the Google Discover feed. The purpose of these ads is to show potential customers something they want before they even know they want it. These ads are designed to work with a searcher's intent, rather than keywords and provide brands the opportunity to showcase products or services. The placement of these ads is directly influenced by topics the users show an active interest in. Discovery Ads will allow an advertiser to show their products and tell their brand story, through interactive, highly visually rich ads.
What do "Discovery Ads" look like
Google gives Discovery Ads platforms to show on: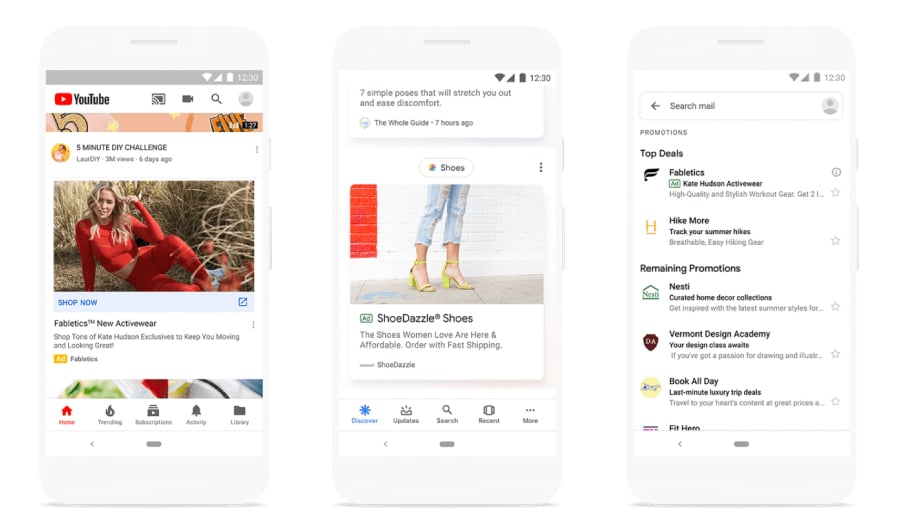 In Gmail, the Discovery Ads will function and look much like normal Gmail Ads. For YouTube Home Feed and Discover, the ads will look more like native feed ads with images. YouTube Home Feed ads will also allow the advertiser to utilize call-to-action banners to compliment the "Discover Ad".
What is needed for Discovery Ads?
Headlines: A headline can be up to 40 characters with 5 different variations. These will be the first thing that shows with the ad.
Descriptions: A description can be up to 90 characters with also 5 different variations. This is the chance for the advertiser to add additional details to the ad.
Images: Square, landscape, and a square logo are needed. An advertiser can use up to 15 images for a single creative. While having the ability to have 15 images, an advertiser wants to make sure to select images that work well with any combo of the ad copy. Google will utilize all assets submitted to dynamically create ads. Google recommends having at least 3 square and 3 landscape images.  For carousel ads, you should have a minimum of 5 cards with the same aspect ratio.
When to utilize Discovery Ads?
Currently, more than 800 million people use the feed to stay up to date on their interests, and that number continues to climb. With Google's machine learning, coupled with audience and intent signals based on customer behavior, Google Discovery Ads allows advertisers to deliver personalized ads to people who are interested in discovering and potentially engaging with your brand as they browse their favorite content.
Discovery ads can be used to drive sales, newsletter signups, or simply more website visits. They can also be used when trying to reach new customers. Discovery ads allow an advertiser to utilize imagery to drive interest to new potential customers.  This can help reconnect with some of an advertiser's most valuable customers or introduce new customers to their brand.
What do "Discovery Ads" Mean for Advertisers?
Google Discovery Ads is showing the industry where AI is headed in the next few years. With Google leaning heavily on machine learning, Discovery Ads will be able to provide more information that allows the algorithm to show content that users want to see and prevent content that they do not want to see. Discovery Ads are a new way to attract new customers or even interact with a current customer base.
We understand it's tough to always stay ahead of the curve in an ever-evolving digital landscape, especially with Google, which is why you need a knowledgeable business partner to help guide you through. At Techint Labs, we are in constant contact with our partners at Google and will help your business stay ahead of the curve. To learn more about what's new and how we can help, contact Adcellerant today!